Find time for yourself, take care of your body and mind in Live SPA...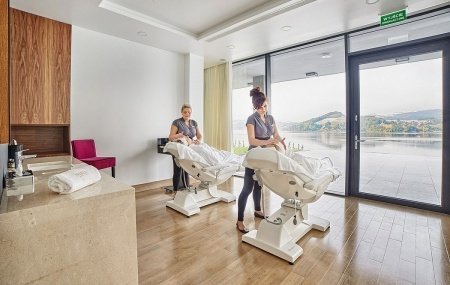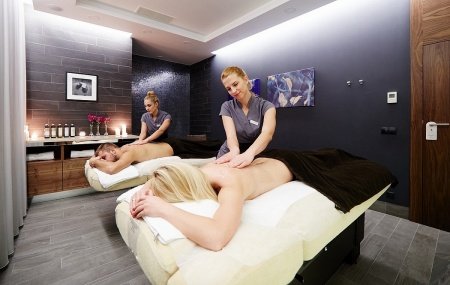 RESERVATION
All treatments are available until 31 March 2016. Upon prior reservation.
BOOKING TREATMENTS:
+18 888 85 04
recepcjaspa@heron-hotel.com
NIGHT OF THE SENSES
RELIEF, HARMONY, RELAX
LIVE SPA is a place where you will soothe the senses. Imagine spending an autumn evening in Live Spa, where you can unwind and relax your body and mind.
TIME OF THE PACKAGE: approx. 3,5h.
REGULAR PRICE: 300 PLN
DISCOUNT PRICE: 199 PLN
The package includes:
session in an aromatic sauna and a bath by candlelight. Nourishing hand treatment "Happy Hands" which makes hands smooth and soft. Enriched with purified extract of snail protein regenerates skin barrier. Good Mood Treatment "Benessere", containing active ingredients, moisturizes and nourishes your skin. It creates sensual pleasure and good mood.
OR
Aromatic-relaxation massage with hot oils of your choosing: birch oil, edelweiss or nacre which put you into a blissful state by aroma and magic touch. The massage is an unique experience.
ECO SPA
IN PEACE WITH NATURE
Live Spa is a place in which you will feel the nature with all of your senses. A magnificent view, water attractions, SPA rituals based on natural cosmetics will allow you to relax and take care of your natura beauty.
TIME OF THE PACKAGE: approx. 3,5h.
REGULAR PRICE: 475 PLN
DISCOUNT PRICE: 349 PLN
The package includes:
- Refreshing yoghurt face treatment making your face moisturized and completely revitalized
- Biological manicure or pedicure is an alternative of traditional manicure and pedicure, especially recommended for people who appreciate the natural cosmetics without invasive treatment.
- Classical body massage with sesame oil relaxes muscles, improves blood microcirculation, oxidizes and softens skin, slows the aging process and positively regulates the protective function of the skin.
- Bath in saunas: finnish, IR, aromatic and steam bath.
- Eco-coctail tasting.
SZYBKA REGENERACJA
ZREGENERUJ CIAŁO I UMYSŁ
Zapraszamy do spędzenia niezwykle regeneracyjnego wieczoru w Live Spa, gdzie w pełni odnowisz siły witalne i zrelaksujesz swoje ciało oraz umysł.
czas trwania pakietu: ok 3h
cena regularna pakietu: 350 pln
CENA PROMOCYJNA: 299 pln
PAKIET OBEJMUJE:
- peeling solno-olejowy całego ciała doskonale wygładza i odżywia skórę
- relaksacyjny masaż stóp odpręży zmęczone i obolałe stopy po całym, ciężkim dniu
- odżywczy zabieg na dłonie 'Happy Hands' przywraca dłoniom miękkość i gładkość. Wzbogacony oczyszczonym wyciągiem z białka ślimaka umożliwia regenerację i wzmocnienie struktury bariery skórnej
- seans w saunie aromatycznej oraz kąpiel w basenie przy blasku świec
Beautiful Woman
A BEAUTIFUL WOMAN
Live SPA is a perfect place, where every woman will get what is best for her. Professional treatments, based on natural and technologically advanced cosmetics, will allow to bring out the beauty. TIME OF THE PACKAGE: approx. 4h. REGULAR PRICE: 700 PLN, DISCOUNT PRICE: 399 PLN
The price includes: intensively refreshing facial treatment which restores skin's youth and vitality. "Firming" treatment help the fight against loosening of the skin and symptoms of skin and body ageing. Thanks to IN-TENSE complex it strengthens and reorganizes skin structures. Classic manicure, makes hands elegant, hydrates and restores radiance. Day make-up will subtly emphasize woman's beauty.
BIZNESMEN
NEAT MAN
The times, when only woman benefited from SPA are long over. Today, like in ancient Rome, men can also have treatments and massages, which renew vitality, relax and allow regain full strength for new challenges.TIME OF THE PACKAGE: approx. 3h. REGULAR PRICE: 410 PLN, DISCOUNT PRICE: 269 PLN
The price includes: Energetizing Thalasso facial treatment, which hydrates the skin intensively and for a long time. It also refreshes tired skin. Classic whole body massage, eliminates tension, regenerates muscles, allows full relaxation. A bath in the swimming pool and jacuzzi, rest in saunas: finnish, IR, aromatic and steam.
PIELĘGNACJA WŁOSA
ZADBAJ O SWOJE WŁOSY
Jednym z gabinetów Live SPA jest gabinet fryzjerski, gdzie specjaliści pracują na kosmetykach marki Kevin Murphy. Dzięki temu w Live SPA można nie tylko zadbać o swoją skórę, ale także i o swoje włosy.
czas trwania pakietu: ok 2h
cena regularna pakietu: 400 pln
CENA PROMOCYJNA: 299 pln
PAKIET OBEJMUJE:
- profesjonalna diagnoza włosa z poradami dotyczącymi kontynuacji pielęgnacji domowej
- rytuał odprężająco-pielęgnacyjny rozpoczyna się pielęgnacyjną kuracją. odpowiednio dobraną do struktury włosa. Rytuał połączony jest z niezwykle przyjemnym masażem głowy, zakończony modelowaniem włosów ze stylizacją
- relaksacyjny masaż stóp wykonywany podczas rytuału pielęgnacji włosa
- henna brwi i rzęs z regulacją oraz masażem okolicy oka