The Heron Live Hotel offers many attractions which will make the stay more interesting. We offer billiards or snooker games, sports activities and attractions on Rożnowskie Lake. The area around the Hotel is full of amazing views, that can be explored and admired while riding an electric bicycle or hiking with Nordic Walking poles available at the Hotel. Explore the beautiful surrounding.
MALIBU
TYLKO W HERON LIVE HOTEL...
Łodzi Malibu M235 to nowoczesna i luksusowa łódź do uprawiania sportów wodnych tj. wakeboard i wakesurf. Służy zarówno do rekreacyjnego zwiedzania jeziora jak i aktywnie spędzonego czasu z odrobiną szaleństwa. Sekretem łodzi są systemy do wytwarzania fal. Integrated Surf Platform i Surf Gate to nowoczesne systemy, dzięki którym możemy cieszyć się falą do surfingu. Dzięki tym systemom możemy w pełni kontrolować falę, oraz dostosować ją do indywidualnych potrzeb. Łódź wynajmowana jest wraz z obsługą sternika, który podczas rejsu zabierze Was w trasę ukazującą piękno Jeziora Rożnowskiego. Łódź może być także wynajęta z instruktorem wakesurfingu, który nauczy Was surfować na fali oraz dobierze odpowiedni sprzęt do treningu. Prosimy o rezerwację łodzi Malibu w recepcji hotelowej.
1h - 1000zł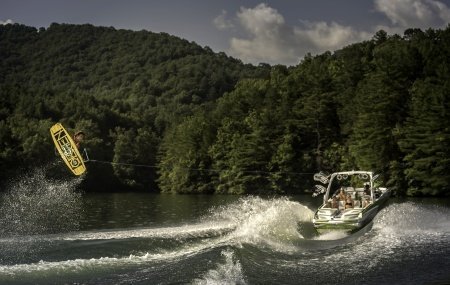 TESLA
LUXURY BOAT
Tesla to luksusowa łódź solarna, która nie wydziela spalin, jest napędzana energią słoneczną. Tesla jest przyjazna środowisku, a dzięki zerowej emisji hałasu można nią pływać w strefie ciszy. Łódź pomieści 10 osób.
1h - 250 zł
WELLNESS ZONE
RELAX ZONE
Heron Live Hotel is a place to rest and regenerate body and mind. The wellness zone consists of a heated swimming pool 'Infinity Pool' with outdoor jacuzzi. Inside the building there is also a swimmig pool, jacuzzi and sauna complex, which consists of: dry sauna, steam sauna, aromatic sauna and infrared sauna. In the sauna zone there is a relax room designed to provide full relaxation. The wellness zone overlooks magnificent view of Rożnowskie Lake and is free for the Hotel's Guests.
FITNESS ROOM
KEEP FIT
In the Live SPA on -1 floor there is a Fitness Room accessible for all of our Guests. It is a perfect place to gain energy early in the morning or relax after a hard day. There is plenty of modern equipment in the Fitness Room:
treadmills
exercise bike
cross trainers
yoga mats
TRX zone
dumb-bells zone
fitness equipment
BILLIARDS AND SNOOKER TABLES
DISCOVER YOUR PASSION
Billiards and snooker are games both calming and relaxing. They are also very exciting. The room is located on -2 floor with 2 billiards and 2 snooker tables. The room is available upon prior reservation at the Hotel's reception.
1h - 35 PLN
MULTIMEDIA ROOM
ENTERTAINMENT
The Multimedia Room is located on -2 floor and it is equipped with PlayStation consoles with various games. It is a perfect form of entertainment for both grow-ups and children. The room is free of charge and it is available upon prior reservation. PlayStation games are available at the Hotel's reception.
ELECTRIC BICYCLES
BE ACTIVE
Around the Hotel there are many bikes trails with various difficulty levels. With electric bicycles, available at the Hotel, steep hills seem easier. Explore the picturesque trail around the lake, about 42km long: Sienna - Dąbrowa - Kurów - Tęgoborze - Łososina Dolna - Witowice Dolne - Rożnów - Gródek nad Dunajcem - Sienna.
1h - 35 PLN
2h - 50 PLN
4h - 75 PLN
24h - 120 PLN
NORDIC WALKING
DISCOVER AMAZING PLACES
Heron Live Hotel offers 40 pairs of Nordic Walking poles. Walking uphill trails, situated opposite the Hotel, is a pleasant experience. The reception provides information assistance about the trails.
3h - 15 PLN
24h - 25 PLN
MOTORBOAT WITH A HELMSMAN
EXPLORE ROŻNOWSKIE LAKE
Heron Live Hotel has its own port (available from 1.05 - 30.09) with motorboats. A motorboat trip with a helmsman is an excellent form of activity and relaxation on the lake, and also an interesting form of activity and relaxation on the lake, and also an interesting form of exploring the area. The motorboat holds up to 4 people. They are available at the Hotel's port, but must be reserved in advance at the Hotel's reception. If you hae a motorboat license, you can rent and drive the boat independently.
30 min - 250 zł
KAYAKS AND PEDAL BOATS
ENTERTAINMENT FOR FAMILIES
Heron Live Hotel has its own port (available from 1.05 - 30.09) with kayaks and pedal boats rental. It is a great form of physical activity, sightseeing and exploring the lake. Kayaks and pedal boats are available upon prior reservation at the Hotel's reception.
1h - 25 PLN
3h - 60 PLN
24h - 100 PLN
OFF-ROAD
4x4 TRACK
In a close neighbourhood of the Hotel, we have prepared a 4x4 track, approximately 3000 metres long. Our Guests can experience a large dose of adrenaline while driving an off-road car, supervised by an instructor. It is a perfect way of spending time for those who seek thrills. A prior reservation is needed. During the drive other attractions are available for an extra fee, ie. horse riding, shooting, horse-drawn carriage trip, hunting.
3h - 650 PLN
3h - 750 PLN
OFF-ROAD DAY IN BESKID NISKI
BE EXTREME
Beskid Niski is a land of great natural beauty. Our Guests can experience an adventure behind the wheel of 4x4 car, on a track full of natural obstacles, with our Off-Road instructor. We have prepared approximately 70km-long route through picturesque countryside, with a possibility of visiting places like the World War I cemetery, sacred objects on the Trail of Wooden Architecture, or abandoned lemko villages. During this day, fulfilled with adrenaline andpositive emotions, we offer barbecues in the open air, or a snack in a shelter-style in case of a bad weather. The Off-Road drive is available upon prior reservation.
10 h - 1400 PLN
SKAŁKI WSPINACZKOWE
30M WYSOKOŚCI
Kompleks skałek rożnowskich znajduje się nad brzegiem Jeziora Rożnowskiego, w miejscu dawnego kamieniołomu, poniżej drogi biegnącej z Rożnowa (kościół) w stronę Bartkowej i Gródka n. Dunajcem. Kilkanaście skał różnej wielkości utworzonych jest z piaskowca ciężkowickiego. Najważniejszą część skałek tworzy ciągnąca się przez 250 m grzęda skalna.
Najwyższa z kulminacji dochodzi do 30 m wysokości. Warto zauważyć, że kompleks pełen jest różnorodnych dróg wspinaczkowych, od bardzo łatwych do takich dla prawdziwych mistrzów wspinaczki.